All my PCs are tied up working on a monstrous 4K fractal video, so I'm working on music on my MAC Mini. I traditionally put out a new tune for every Federal Holiday, and it's Columbus Day (Indigenous People's Day) weekend.
I've been wrestling with getting a LinnStrument, and have been fooling around with the Roli Seaboard Block. I moved one of my traditional MIDI controllers from the living room into the basement studio, and it's across the work desk that I normally use. I don't normally have my MIDI keyboards so close at hand.
I started using my Rosewood 10-string tuned in mirrored 4ths with Jam MIDI guitar, and then branched out to two other MIDI controllers:
MIDI controllers:
Roli Seaboard Block
M-Audio Keystation 88 MIDI Keyboard
Chapman Stick connected to Jam Origin MIDI Guitar
I realize the irony of using Chapman Stick to trigger guitar samples, when I could have just used the audio output of the Stick, but they weren't originally guitar samples, just notes into my DAW. I could have done all of these with just the 88-note keyboard. I could not have done the solo on anything but the 88-note keyboard, as there are a couple of glissandos (that I could have just "drawn" in MIDI in the DAW).
My guitar samples are a mix of Pro Tool's Xpand!2 ("Long and Short Powerchords") and Structure Free (6-string acoustic guitar), and then processed through NI's Guitar Rig. Not a single audio file of any sort was used; an entire MIDI creation.
Drums were a mix of drum kits using Pro Tools onboard Boom drum machine.
I posted it last night here to IComposition.com (It was my one-year anniversary there, with almost 7K listens last year!):
http://www.icompositions.com/music/song.php?sid=223111
Z'ha'dum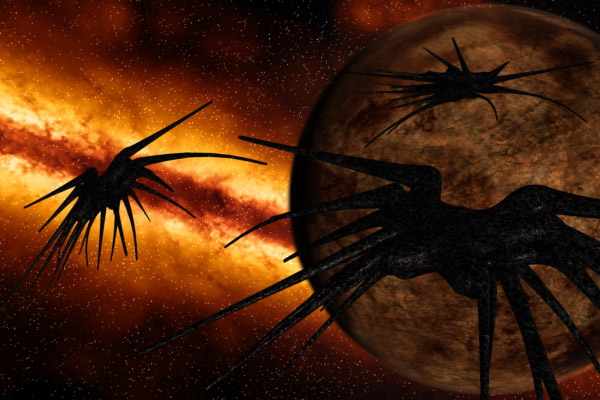 Quote:
Electronic industrial metal with a fat analog keyboard lead over phat drums and crunchy guitar. and arpeggio'ed bass.

In the fictional Babylon 5 universe, Z'ha'dum is the homeworld of an ancient, mysterious race known as the Shadows. The planet is near the galactic rim. The Shadows return to the world every time they are defeated, until their final departure from the galaxy in 2261.
Fire Keep of the Deep #16: Nightmare Castle.
Original done at 12K.
https://soundcloud.com/stephen-sink-1/zhad-dhum
Fractal video later (or course)!
Down in Fractal Rock,
Steve Sink